Only
High Quality

Bronze Plaque

We strive to deliver the best possible quality custom bronze plaque to our customers! Order Plaques Online.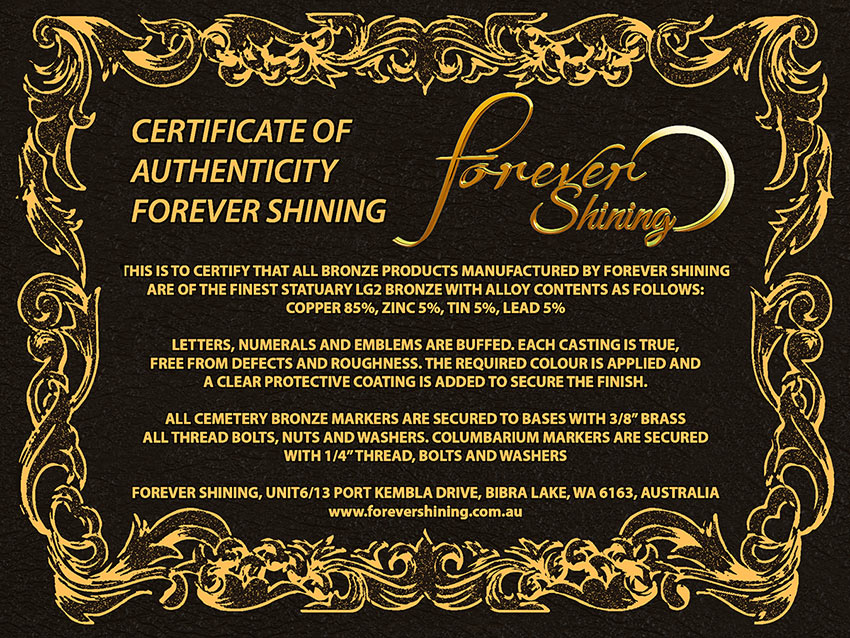 The finest metallurgical content
Free from defects and roughness
Clear Protective Coating on finish
Prestigious and Luxurious
Benefits to
Design Online
Get your custom plaque online – Easier, cheaper, faster. Uncompromisable!

Prestige Product
Get the highest quality product with exclusive custom bronze plaque and designed by you in the comfort of your home and get it delivered at your door.

Personalized Design
Our unique 'Design Your Own' system gives you freedom to design your plaque without leaving home. Design anywhere, anytime and order plaques online.

Save Money
Do not pay for countless appointments and designers. Simply exercise your creativity with our 'Design Your Own' software.

Save Time
Time saver for anyone who does not want to deal with cemeteries, schedule appointments and spend days managing things

Free shipping
We have free delivery across the USA. So Order Plaques Online Today!
Patented Technology
US patent application no. 15/773,294 – "A design system and method" | Our ref: US15/773,294
Looking for a truly custom bronze plaque or Photo Plaques Online? We at Forever Shining have built an online design tool for our customers to design their custom memorial plaques it's quick and easy with an instant price quote or you can also get in touch with our friendly in-house artist, and we can assist to design a personalized custom Bronze Plaque.

We help you design your custom bronze plaque to honor important places, family, or events. They are perfect for garden memorials, historic buildings or Pet memorial plaques, and much more. Covered by a warranty, bronze plaques offer the uppermost durability and can survive any weather. All Plaques we offer are Custom and can be made any size, shape, colors, Fonts, and different options of Bronze to choose from. There are so many options to choose from and what you can design. Simply logon to our online design system and create your custom memorials. You can use your words, custom images for the Bronze plaque because of the customized nature of this product.

Recognize, remember, and honor a loved one or any place that's momentous to you with a custom bronze plaque that will stand the test of time. You can have a custom design any Bronze Plaques, headstones & Photo plaques you can imagine with forever shining patented online design tools, "Design your own.