Commemorative Plaques Online
A beautiful plaque is a fitting tribute to a loved one or valued colleague. A Commemorative Plaques Online serves as a permanent recognition of a life lived.
It is not just a memorial, but a work of art. Create a personal message of remembrance which will last for generations to come.

The uniqueness of an individually designed online Commemorative plaque reminds us of the rare and special contributions loved ones have made to our world. Recognize and celebrate the extraordinary, the valued and the loved with an enduring, high quality bronze plaque with the additional bonus of being able to design it yourself for a totally personal touch.

Beautiful plaques are a fitting tribute to a loved one or valued colleague. They provide a glimpse into the life of the individual who is memorialized and create a lasting sense of appreciation. Honor those who have gone before with the finest quality bronze commemorative plaque.

Give true and lasting recognition to loved ones, events or achievements. Make your commemorative plaque personal by designing it yourself. Use our unique, patented design system to design exactly what you want to commemorate in bronze.

We use only the best materials to manufacture your plaque design. Tested under harsh Australian climatic conditions, your commemorative bronze plaque will stand the test of time in the USA. You can even add photo images to your customized commemorative plaque. Made from ceramic or vitreous enamel, they make a meaningful addition to your bronze plaque design.

Our fully online, design system allows you to design, order and ship for free, direct to your door.
Design Now
Each bronze plaque also offers a variety of options
such as background color, border design and font styles to personalize each piece and give it a
dynamic character

.

As a customer you have the opportunity to personalize the design of your plaque using the exclusive patented design section of our website.




You may also like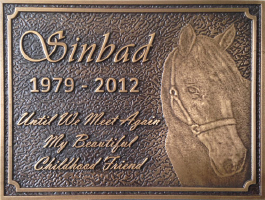 Pet Plaque
When we first started creating Commemorative and Memorial plaques, we quickly realized there was so much more potential for the use of bronze plaques. Not only did we get orders to immortalize lost loved humans, but pets as well; pet plaques are a beautiful way to remember a lost pet that held a special place in your heart.