Bronze grave markers, bronze memorial plaques, and bronze lawn markers are strong, long-lasting monuments used to honor the lives of people interred in cemeteries or memorial gardens. These markers are normally constructed of solid bronze or a bronze alloy, a material renowned for its resistance to corrosion and capacity to endure exposure to the weather.
Depending on individual preferences and cemetery rules, bronze lawn markers can be found in a variety of sizes and styles. They frequently have flat bottoms so that they blend in with the grass or surroundings by lying flat on the ground. These markers can be personalized with words, symbols, or even photographs that pay tribute to and remember the dead person.
Here are a few significant qualities and advantages of bronze lawn markers:
Durability: Bronze is a hardy metal that resists deterioration and doesn't lose its visual appeal when exposed to rain, snow, and sunlight.
Customizability: Bronze markers can be engraved with a variety of significant inscriptions, such as the deceased's name, birth and death dates, epitaphs, or religious symbols and also the images .
Elegance: Bronze memorials have a sophisticated aesthetic that is both ageless and traditional. Bronze naturally patinas over time, which may heighten its attractiveness and give it a distinctive appearance.
Longevity: Bronze lawn markers may remain for decades due to its durable design, offering a permanent memorial to the loved ones who have passed away.
Maintenance: Most bronze gravestones only need occasional cleaning. Their brilliance may be preserved and their condition can be maintained with regular cleaning and periodic polishing.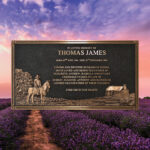 Consult the cemetery or memorial garden for information on their rules and specifications before purchasing a bronze lawn monument. Regarding the size, style, and methods of installation for lawn markers, some cemeteries may have special requirements.
Working with a respected monument business or memorial specialist like us is advised since they can help you choose an appropriate bronze lawn marker and walk you through the customizing and installation processes.